Visiting Us
Please Note: From July 14th to September 1st, we are holding worship services at the Cleveland Heights Location (2728 Lancashire Rd).
This location is air conditioned. It is not equipped with an elevator, but does have a stair lift. Parking at the building is limited, but there is lots of free street parking, as well as several paid city lots nearby.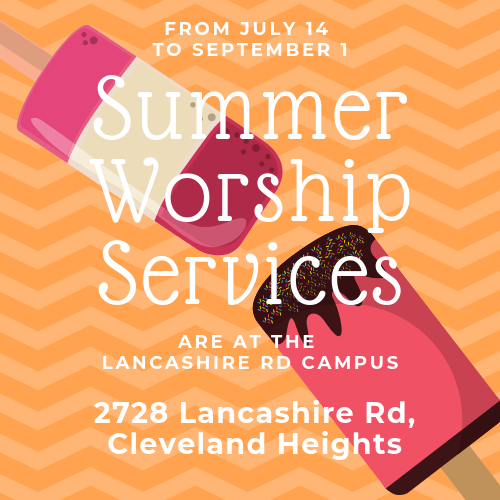 Visiting a new church for the first time can be exciting (and intimidating). Here are some friendly notes to help you find your way through a service with us.
Our Sunday Worship Services begin at 11:00 am at our Shaker Heights location (21600 Shaker Boulevard). We have plenty of parking behind the building, including covered spaced under our solar array.
You'll enter via the back of the building – the East Entrance has stairs, while the West Entrance has a ramp. We have an elevator that makes all the floors of our split-level church accessible.
In our sanctuary, you'll find pews, a pulpit, an altar, hymnals and other items you'd expect in a church. We also have a space for you to share your joys and sorrows with our community by lighting candles or placing stones into water.
A typical worship service lasts about an hour. After a warm welcome and some announcements, we light our chalice. The chalice lighting is an important part of our opening ritual, and most UU churches services in this way. It is one way that can connect with our siblings.
After that, we'll sing a hymn. Many of our songs may be familiar from other churches you've attended, but you may find some of the theology expressed in our words to be different from the ones sung in other churches.
Most often we then have a Time for All Ages, which is a family-friendly message related to the day's sermon from our Director of Religious Education. We sing our young people off to Youth Religious Exploration classes afterward.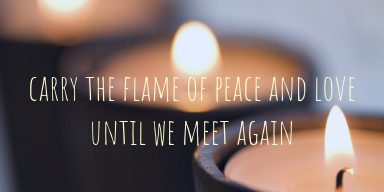 The second half of the service is when we gather our weekly offering. The money collected is given to a nonprofit operating in our community. Some recent recipients include Lake Erie Ink, The Music Settlement, and Tea Time for Peace.
We also hear from the Global Scripture — a reading from the wisdom of the world. Past Global Scripture reads have come from the Torah, the New Testament, iconic or comic books, television, the New York Times, and poets like Langston Hughes, Maya Angelou, Mary Oliver and Emily Dickinson.
Then comes the sermon. The person in the pulpit (often our minister, Rev. Joe Cherry, but sometimes not) tries to offer you something to consider. This is perhaps the part of our church service which varies most widely from that of other churches. Rather than instructing you about how one holy text tells you how to live, a person offering a homily or sermon in our church offers you carefully considered thoughts about how you might think about a moral, political or spiritual issue.
We wrap up our worship service with a closing hymn and a benediction. We also join together for a closing circle – holding hands and singing togther "carry the flame of peace and love until we meet again."
After the service, everyone is invited to our Fellowship Hall for coffee hour. It's the perfect time to meet our members, have some coffee, and get the inside scoop on our congregation.
We hope you'll come by for a visit.